Storms and Trees
Hurricane Bob roared through this section of Maine in the summer of 1991. I remember it well because we had just built our log house the year before, and I was up here by myself putting 3 coats of interior stain (with sandings in between) on the spruce purlins, pine ceilings and cedar walls of the upstairs loft room. I heard the howling wind, and when I looked out the windows at that end of the house, I watched a huge 60-foot spruce tree swaying dramatically before my eyes. Of course, all other trees were moving rapidly too, but this one was particularly ominous due to its proximity. Also, evergreen trees have a shallow root system, thus they much more easily and more often uproot than deciduous trees, and they will topple over, ripping their roots right out of the ground. I did not know that I was experiencing a hurricane until I went into town, 10 miles away, a couple of days later to get ice for my cooler, where I commented on the heavy winds. Battery-operated radio reception was poor, TV service was non-existent (and we still have no TV here by choice), and this was well before cell phones – in fact, that's another story. (We had to go into town to the pay phone on the side of the road and hope that one's conversation wasn't interrupted by the deafening rumble of a fully-loaded logging truck passing by or by the attack of local, free-range roosters or the dog that chased them!) The cooler was our refrigerator for a couple of years before we invested in our gas one – they are expensive for the size, but very efficient – so getting ice necessitated a trip to town every few days.
That spruce tree did not fall down in Hurricane Bob, but several years later when we arrived, it had toppled over, thankfully the wind pushing it over into the woods in the opposite direction from our house. For years, the stump of that tree has been the receptacle for a joyful pot of flowers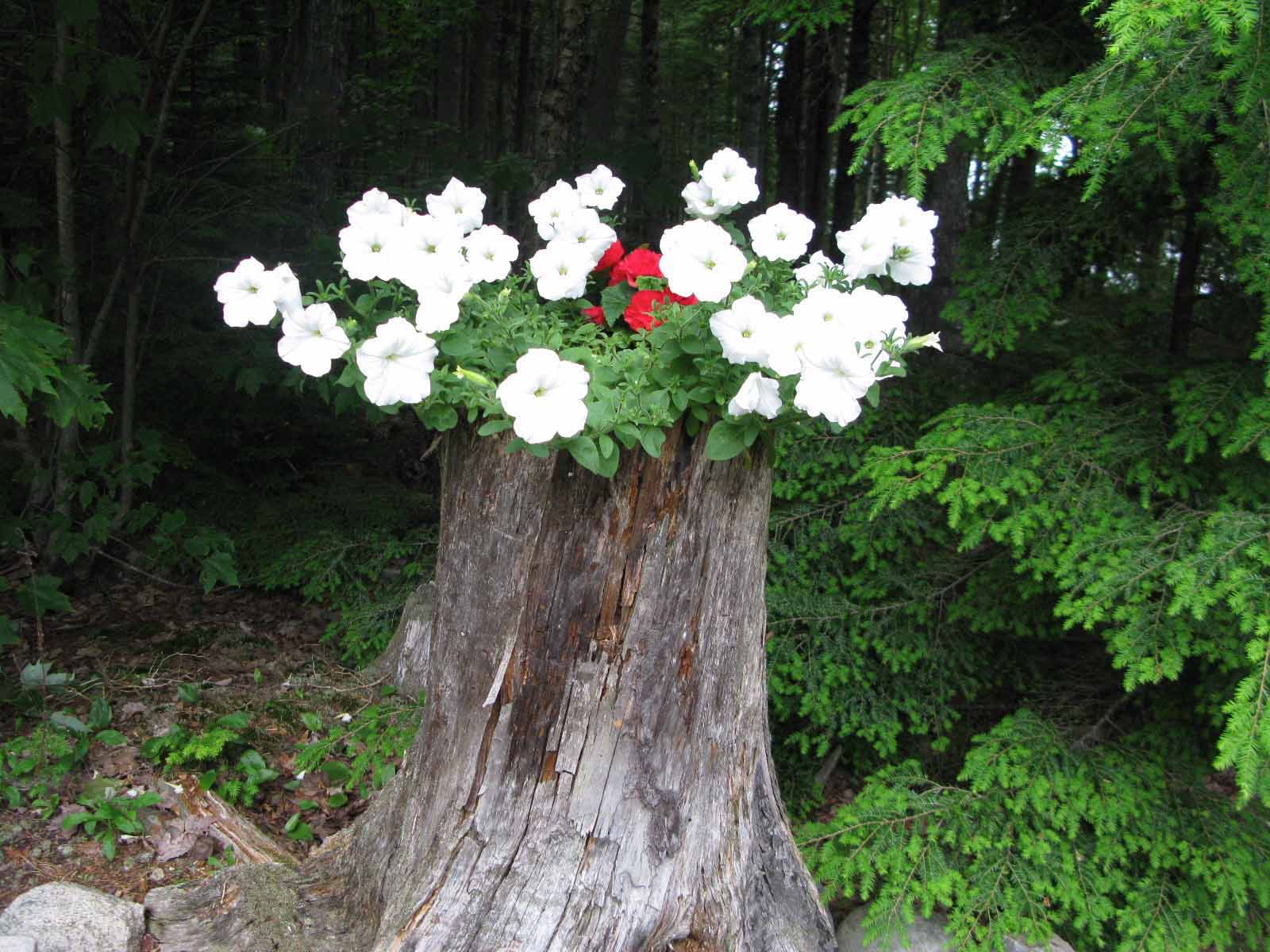 Undoubtedly the same storm also brought down another spruce tree that fell at a right angle over our driveway, down near the house, just missing our garage by about 15 feet. Its branches made a barrier 8 feet high, so it meant going directly for the chainsaw to clear it sufficiently for us to get to the house. That tree also had a bat house attached to it, and when I removed it and turned it upright, I could hear the bats (still housed), scrambling to right themselves inside as I turned it from horizontal to vertical!
Several years ago, while we were here, in a tremendous thunder and lightning storm, a tree on the edge of the woods completely shattered, sending a spray of large "toothpicks" out into the road and into the woods. If anyone or thing had been anywhere close, they would have been impaled by this shower of wood splints.
On arrival this summer, we found an evergreen tree, a foot in diameter, on the front (lakeside) broken over about 15 feet up, again falling so that the house was not in harm's way. Bill has carved it up into 2-1/2 foot pieces, and is either burning those in our outdoor fire pit or putting them in low spots in the woods.
So when Arthur came raging through here about a month ago, along with a confluence of air from another direction (the wind here was blowing a gale out of the north), we knew it was coming; now we have computers with weather reports! The storm dumped nearly 3" of rain in a short time. Friends' boats got swamped and some docks moved if not securely tethered; luckily neither event happened to us. However, we and about 20,000 other Mainers lost power. Our little electric company is a co-operative and covers a very large area of rural Maine in the northern and eastern sectors; damage was substantial and outages widespread. Tree cutting and power restoration crews were called in from other parts of Maine as well as Rhode Island and Pennsylvania to repair broken poles and lines, take down trees on lines and clear them from roads. Indicative of the extent of the damage was that we were out of power for more than two days, about 52 hours. We still have our generator, which we used for all our power for 18 years, as a back-up, so we were able to turn it on from time to time to keep the refrigerator cold, pump water from our well and have lights.
The tree on our property that knocked power out was a 60-foot tall ash which snapped about 30 feet above ground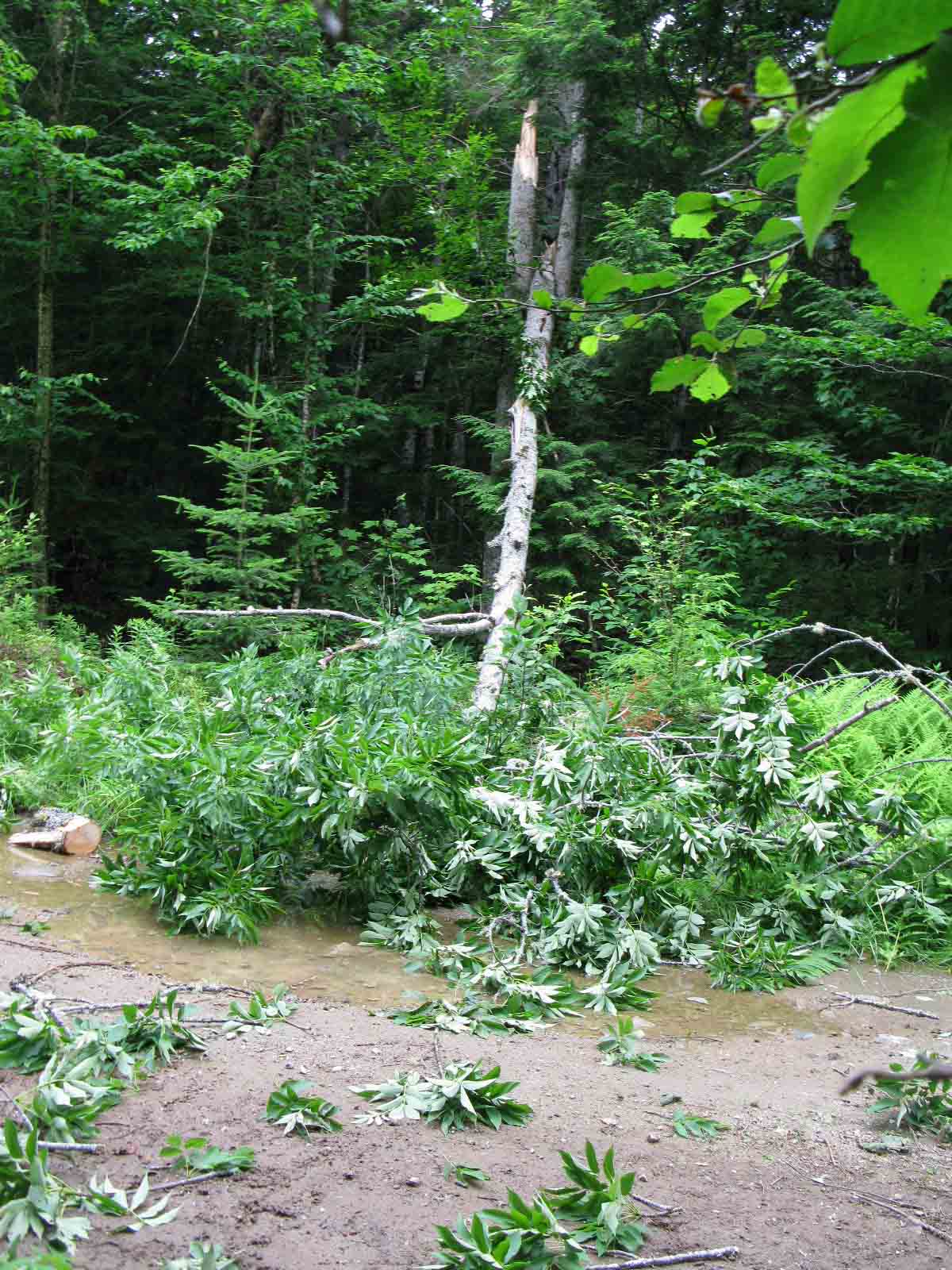 Unfortunately I missed getting the dramatic shot, when the stalk, now appearing on the ground, was hanging on the power lines parallel to the ground, and the crown of the tree (of which part has been cut away in this picture) was dangling over the road pictured, our egress and ingress. Bill and I thought we could clear this, but upon further reflection and not knowing if the line were "live" despite the outage, we decided to leave it for the experts. It was a wonderful sight to see our young neighbor, who we have watched grow from a young lad to the electric company lineman that he is today, drive in with his truck after announcing that he had taken care of the tree on the line, and would be turning our power back on within the next half hour.
It has not been unusual over our 26 years here to find smaller limbs down over the driveway, most of which we can muscle out of the way or roll over. Between all of these incidents and standing dead trees, our woodshed remains full!
Marilyn