What's New in 2015
Every year is different in the North Woods, and weather conditions somewhat define the summer – this year, colder and wetter than usual. My gardens could easily use more sun and heat! But we have not been deterred from projects nor fun with house guests and friends on the lake.
Things happen over the winter. We were greeted by three trees down over our driveway, necessitating a walk in 3/10 of a mile to get the chain saw before the car could reach the house, all the time creating a meal for the black flies and mosquitos (in May, heat from the car attracts them immediately). "Blow-downs" were everywhere, many in the shoreline zone, in the deep woods and several behind our garage. Apparently before the ground froze up here, there was a big dump of wet snow, along with wind, that broke some trees 15-20 feet above ground and totally uprooted others. One that broke at 15 feet up, a 50-foot hemlock, was right in front of the house, thankfully falling towards the water. Bill took it down, peeled it and it is now a new perimeter marker for our parking area. I suppose if one had a horse, it could be a hitching post!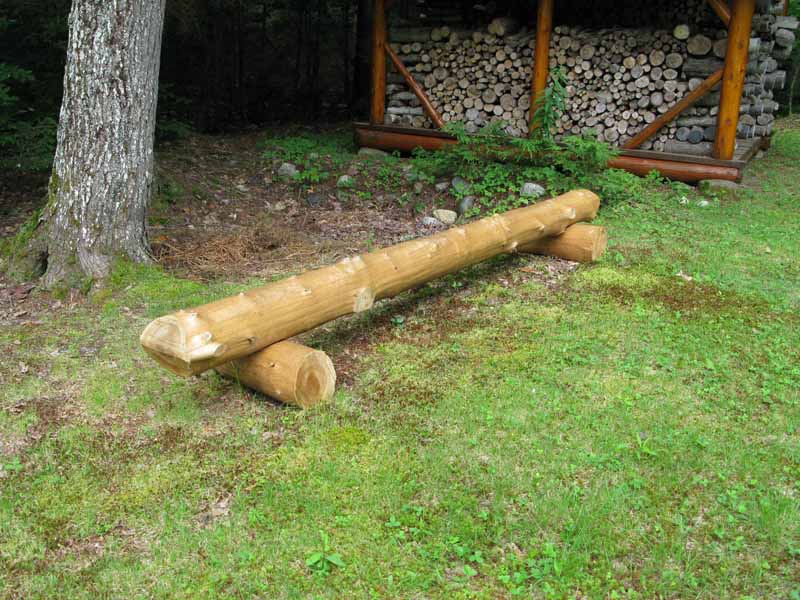 Things picked up in a joyful manner! We went over to Vermont to see our son Wright who hosted a wonderful 70th birthday dinner party for his Dad in a restaurant that we all enjoy. A French woman runs it in a nicely appointed old farmhouse, and the food is elegant and scrumptious! Here is our happy group, friends of Wright's helping us to celebrate.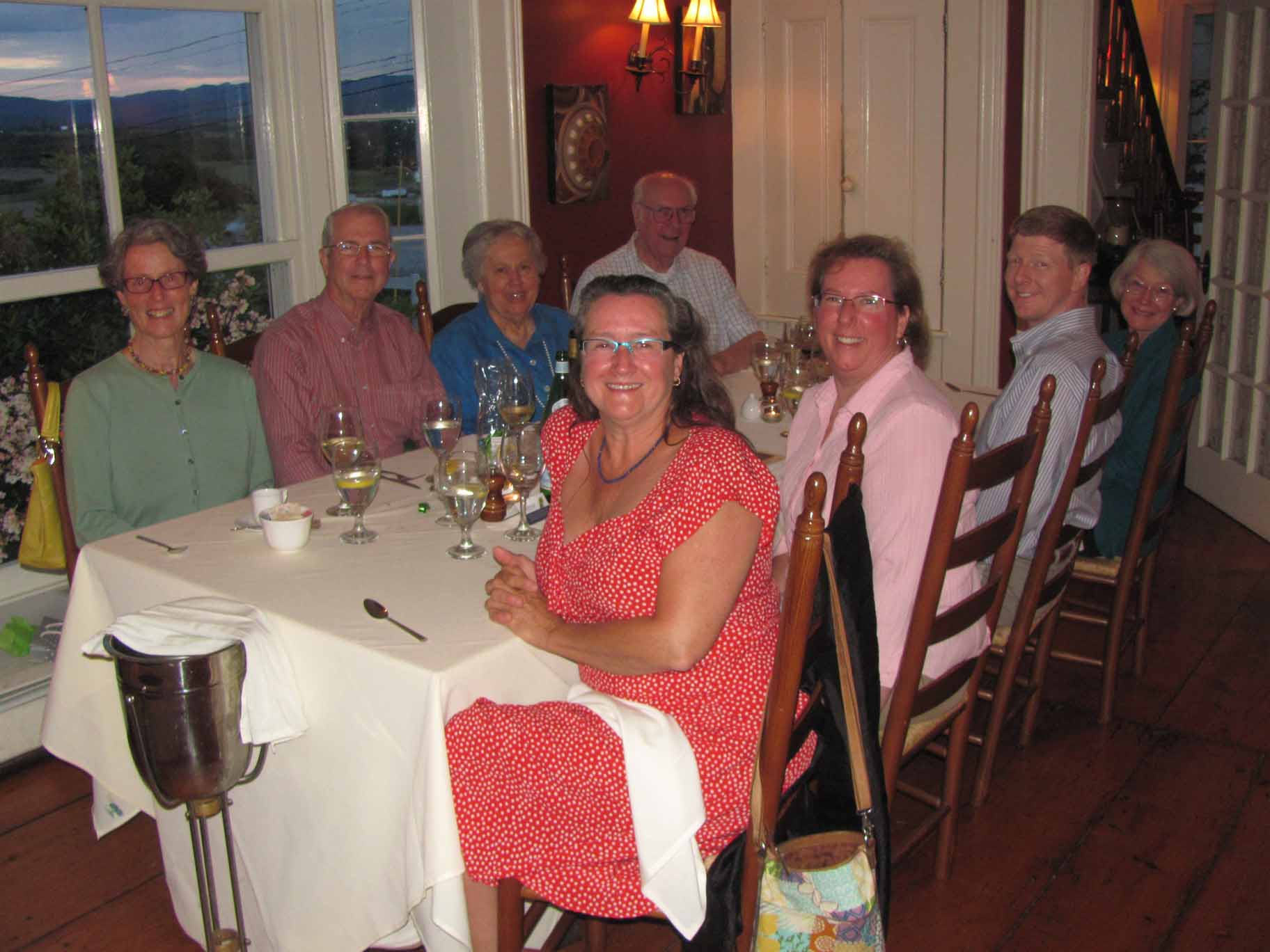 The next night, we did a first – a trip up into the bell tower of the 1806 Middlebury Congregational Church to see the town's Fourth of July fireworks. It is the tradition that every town in the area has its fireworks on different nights so people can travel to see each town's contribution to this holiday.
We have had two docks for quite a few years, a newer roll-in and an old wooden one, getting fairly "long in the tooth" and heavy, becoming an issue as we get older. Bill designed a new wooden dock having three 5-foot panels that lift out of a frame, making it much more manageable for us to put in at the beginning of summer and take out in the fall. It also has a walkway that is attached to the dock and sits on the bank at the other end. In addition, Bill has made a (mostly) waterproof cover for our Grand Laker boat so we can keep it in the water for the summer. Before, it was in the garage and ventured out perhaps once or twice each year, always having to be trailered to the boat launch. Now it gets plenty of use! It's the boat that can go into shallower areas on the lake, opening up exciting exploratory possibilities.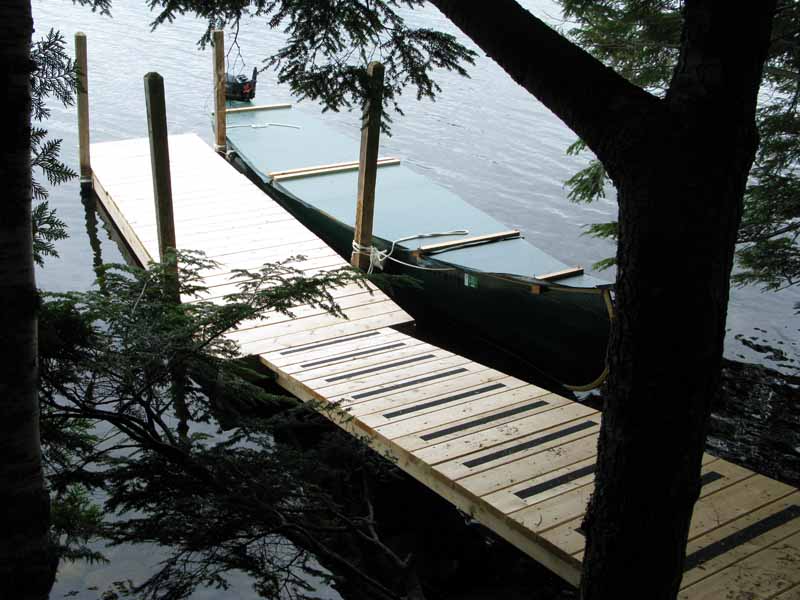 The Grand Laker is a beautiful watercraft, about 20 feet long and developed in Grand Lake Stream, Maine (thus the name) in the 1920s when motors came along. The bow and stern are mahogany, the rails are ash, and the ribs and body are northern white cedar; traditionally it was canvas-covered, but a newer one is fiberglass, allowing it to stay in the water, but it needs a cover to keep the rain out of the interior. It is canoe-shaped with a square stern for a motor and used by the fishing guides who take "sports" from the cities out for a day of fishing and a shore meal cooked over an open fire. Today, we went by the back road, 26 miles, all dirt, part of it owned by the Penobscot and another by the Passamaquoddy Indians, to Grand Lake Stream for the annual festival of crafts and music and for the annual meeting and picnic of the Downeast Lakes Land Trust (DLLT), of which we are supporters.
The DLLT is an incredible story. The small village of Grand Lake Stream undertook what seemed to be an impossibility when, in 2001, it set out to conserve forests, wildlife habitats, watersheds and lakeshores to sustain the region's future. It has succeeded in protecting 71 miles of lakeshore and 370,000 acres, the core of the U.S. portion of a nearly 1.4 million-acre international wildlife corridor between Maine and New Brunswick. The forests are sustainably managed and provide guides and sporting camps an environment that supports their way of life, heritage and culture. At this time, DLLT is raising the last $1.2 million to complete the purchase of a key 21,870-acre parcel with 17 miles of undeveloped shoreline. Over the years to accomplish this conservation, they have raised $55 million! This is what a small community with a strong, common vision has been able to do! Totally mind-boggling, and it's been a joy to be a tiny part of that effort.
DLLT's byline: Forests and Lakes – For People – Forever
Another project under development is making a boat rack down near the shore for our Phantom sailboat that has been taking up good space in our garage. Some years, it never makes it out of the garage, and it is heavy for the two of us to carry down to the water. A boat rack near the water would solve these two problems immediately! New stairs going down to the roll-in dock are also in the works. Will I embed a stone into my walkway this summer? Projects, projects – never-ending – keep the minds and hands busy!
Loons also define our lake. We hear their calls, short hoots or longer tremolos or frantic wails. On one such occasion, Bill and I knew that at least two were very close, so we went to take a look. There was a baby loon swimming right next to the mother, bouncing along on the waves, with the dad next to them. After a few minutes, the baby climbed onto the mom's back and partially hid under the wing feathers – that is typical behavior. We rarely see baby loons right off our point, so this was a special treat! I'm sorry I did not have my camera. One day Bill witnessed an eagle eyeing this trio from above, diving down to try to catch the baby, but the parents converged around the baby and raised their voices loudly; the eagle was foiled. Eagles and snapping turtles are the biggest threats to baby loons and ducks. Of course, this is nature's feeding chain, but loons may have only 1 or 2 babies a year (unlike ducks that have many), and fluctuating water levels and other factors make it difficult for their survival anyway. So I will always root for the loons and know that the eagles can catch fish instead!
A new national park/national recreation area has been under discussion for the north woods of Maine for the past several years. Roxanne Quimby, founder of Burt's Bees personal care products who sold the company for millions, bought 150,000 acres just east of Baxter State Park and wants to donate it, along with a $40,000,000 endowment that would cover about 95% of the ongoing costs, for a national park and recreation area with guaranteed hunting, snow-mobile trails, fishing, canoeing, biking, hiking, etc., all the things Maine people love and attracting those from away as well. The area where this tract is located is economically challenged given that the main employers --paper mills -- have closed. I brought in the North Woods Project Director for the Natural Resources Council of Maine (NRCM) to speak at our Lakeville Camp Owners Association (LCOA) educational event, coordinated with our annual meeting and picnic. Like many things associated with the federal government, there has been a lot of misinformation going around, so it was good to hear what is true and what isn't. It would seem like a win-win for everyone concerned and a boon for the communities in this area that are struggling. It needs Congressional approval, and the sponsors are looking to have this happen in 2016, the 100th anniversary of the national park system. Some day soon, several of us are taking a trip to this property, driving the loop road and hiking Barnard Mountain for vistas of streams, wildlife (moose?), and Mount Katahdin, the highest point in Maine.
Remember Stella, my cherry tree, planted about 5 years ago? She finally produced – 2 cherries! Well, there were a few more initially, but some creature decided to sample them before they got ripe. While this variety was not supposed to be as sweet as those from Washington State, they were both sweet and delicious! I hope there will be more next year!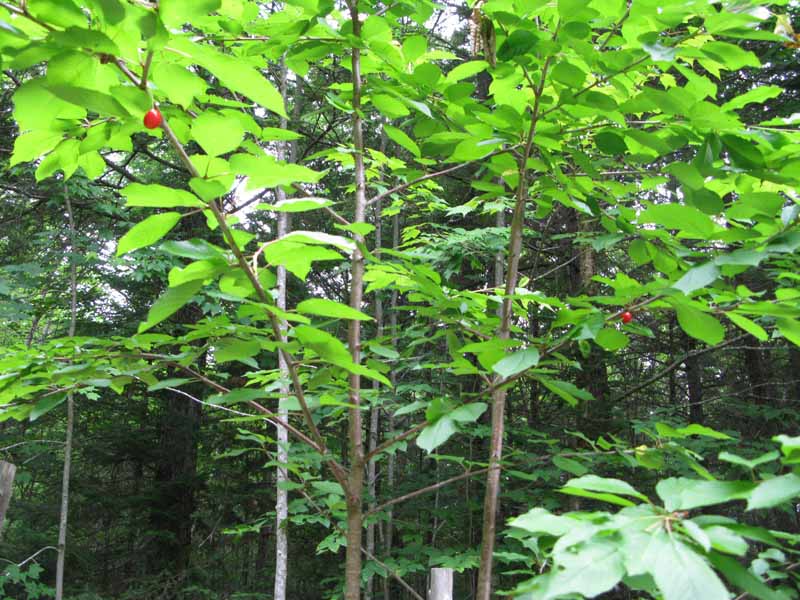 FLOWERS. Every summer, I have pots with annuals that I get from a local grower. What a gorgeous bundle these African Sunset Petunias make on our deck! This is the first time for these, but it will not be the last!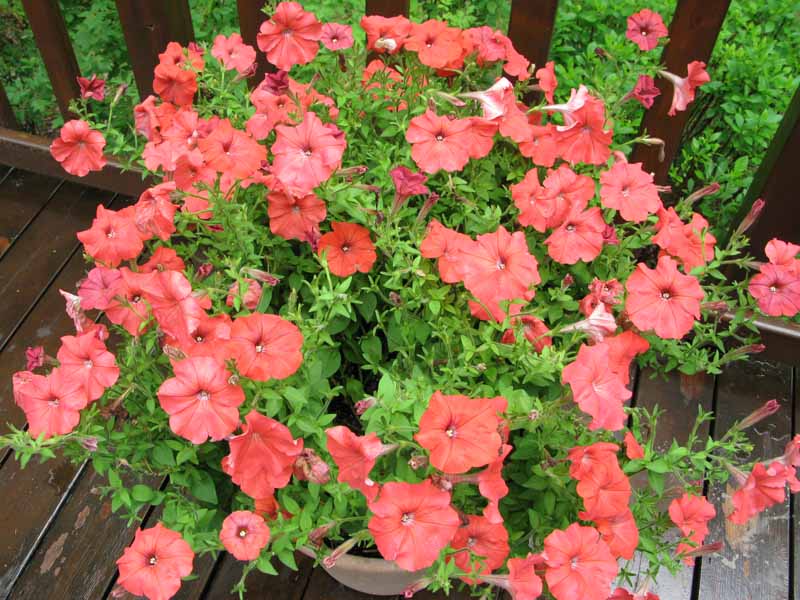 Lastly, not a new thing, but this is a good year for chanterelles which like plenty of moisture and some sun. They grow wild in a few places in our yard, along our driveway, along the main dirt road and in select places in the woods. Here is our collection harvested yesterday. Last night we had sautéed chanterelles on pasta – YUM!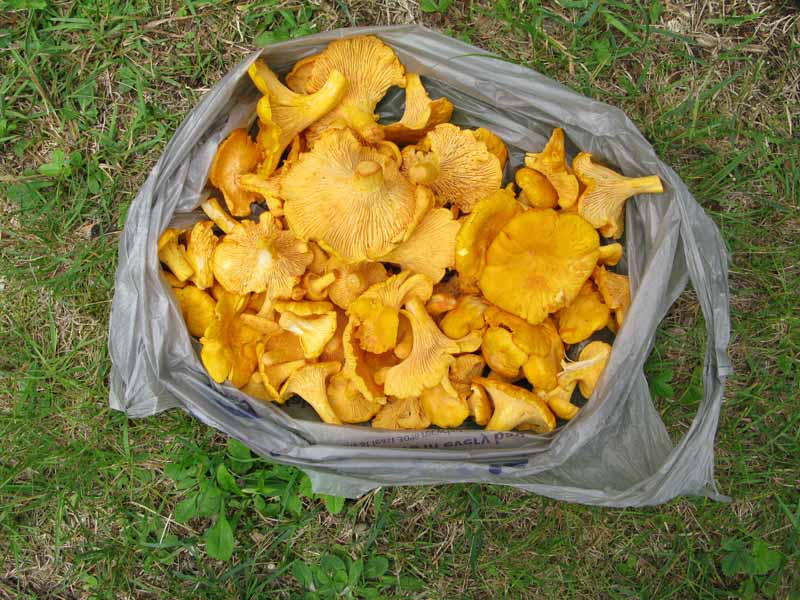 Marilyn