Things Different and New

7/2010

It's been so long, you probably thought I got lost in the north woods! Every summer is different, and this has been a strange one.

On June 2nd, late for us, we arrived here as it turned dark, after flying into Portland (instead of Bangor), renting a car and driving almost 4 hours north. I scurried around to get the electricity on and the water system up and running while Bill worked on getting our car's battery re-connected and started, and the bulk of the cluster flies swept up -- all of this to turn around early the next morning and drive 425 miles south to New Haven, CT, for a 40th reunion of Bill's fraternity brothers that evening, dropping the rental car in Bangor on the way. The morning after the festivities, we visited the two Yale art museums and then drove all the way home that same day. We were here for about 2 weeks, getting the garden, 2 docks, 2 kayaks and a motorboat in, before heading south again to visit friends in MA and CT in combination with our annual trek to NYC – gone 8 days on this trip, but had a wonderful time. So a month had gone by, and we felt like we had hardly been here!

Also during that time, our satellite internet was out for a week and a half, and after many hours of talking to Bangladesh, or somewhere similar, a repairman came to replace a faulty O-ring which had allowed water to get into the feed horn, blocking any signal from coming through. How does one survive these days without internet? With difficulty. In addition, we have had plumbing repairs, which continue – this house is 20 years old, and like some of us, parts need replacing!

We have just had 2 weeks of breathless, windless, heat and humidity – high 80s, in the SHADE – and of course, no air conditioning! The best thing is to take nice motorbike rides to get a cool breeze, or jump in the lake – have done some of the former and little of the latter. Thankfully, we have had rain and cooler weather the last 2 days.

A major difference this summer is that everything is 3-4 weeks earlier than usual. Apparently the winter was relatively mild and the spring was glorious, so the ice went out on the lake very early in April, and I saw indications on the weather map that this area had days of mid-to-high 80s in May.

So June 2nd when we arrived in the dark, I could see that the big mama snapping turtle had already come up to lay her eggs in our yard – she digs in various places, trying to find the right location. Sure enough, when we got up early the next morning to leave for New Haven, Bill looked out the window and there she was, still as massive as ever (about 2 feet long from head to tail). Historic patterns put this event about 3 weeks too early. The black fly population had apparently mostly come and gone, which was wonderful! The plant life is similarly way ahead. The rhododendrons were in their full display – absolutely spectacular – when we got here; the roses opened shortly thereafter, and now the flowers like day lilies, golden glows and hydrangeas that should not be blooming anytime soon, already are, or are heading up to do so long before they should! I even picked our first blueberries July 8th – this is unheard of! And yes, we will have a good crop of wild, high-bush blueberries this year as the bee population seems to have rebounded, again.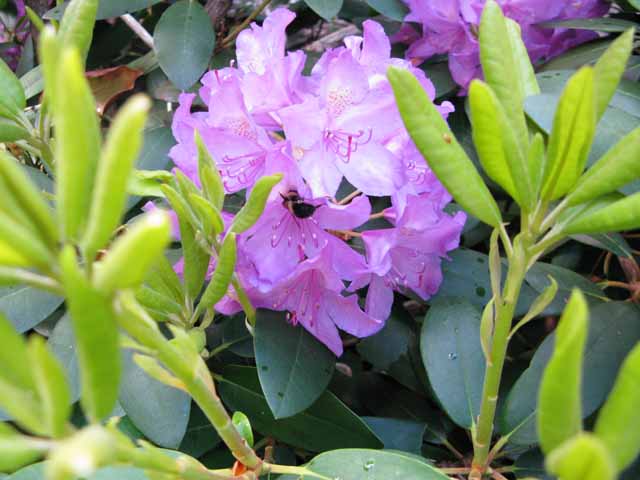 What's new? 1) STRAWBERRIES. Last year I planted 2 flats (12 plants) of real strawberries in a little plot. (I say "real" because we have tiny wild strawberries that grow all through our yard). This year, they were productive beyond my wildest dreams, plentiful, large and flavorful; I must have picked at least 3 quarts and there are a few still coming (picture 1). 2) STELLA. Stella is a variety of sweet cherry tree which friends took delivery of for me until I could transplant it here, which I did when we got back from NYC. Disclosure indicated I should not expect cherries as sweet as those from Washington state, but they should be good. Of course, this is predicated upon, first, her survival (some leaves are dying) and, second, on waiting a few years for her to produce; she does not need a mate for pollination. As she is vulnerable, I have rigged up an enclosure in an attempt to keep the deer from browsing on her and the moose from trampling her over (picture 2). Of course, what you are not seeing in this picture is my removal of a birch tree that used to be in that place, its stump and roots, as well as roots from other trees in the vicinity – that took some doing! I felt like the pioneer clearing the land for homesteading, except I had no oxen – I was the ox! It's a slow process but a chain saw, adze, hoe, shovel and trowel work pretty well. 3) IRISES. Last summer, I planted a large group of Siberian irises that came from our MA friends. Those that got enough sun had spectacular blossoms this year.

Before this oppressive heat, we had two days of heavy rain and up popped chanterelles (mushrooms) in 3 places in our yard, all about 60 feet from our kitchen. They are wonderful sautéed and tossed with pasta, or eaten otherwise. We also have a meadow of raspberries where the forest was cleared for our electric poles. The land is bountiful!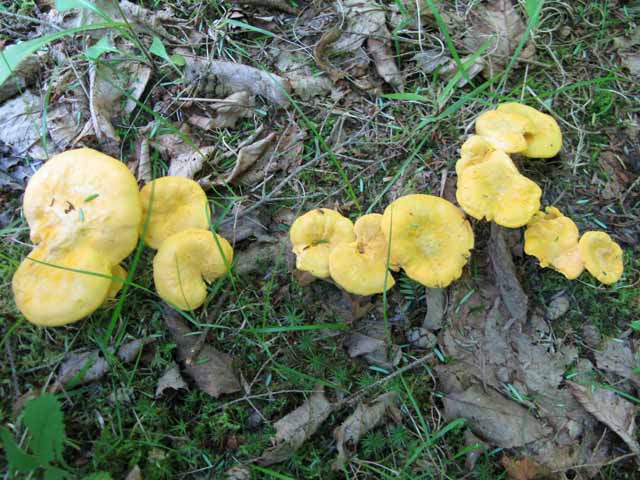 Bill saw a coyote coming out of the woods near our house, the first one we've seen around here in years. Moose sightings have been frequent, however. We saw cow moose in swampy areas on 2 separate motorbike rides, and when Bill was coming back on his motorbike from getting the mail a few days ago, there was one on our driveway, browsing on saplings. Bill waited at a distance; she alternately looked at him and went on browsing until she finally walked off into the woods so Bill could proceed. And last night around 10PM (dark) on our way back from a concert, a baby moose was wandering down the middle of the last stretch of tarred road, moving in our same direction. The moose's gait is so gangly! Again, it does its own thing, and we just have to be patient and wait for it to move off the road.

We and friends on this lake (who come from Hong Kong every summer) went to a great concert last night. In the upstairs of an old grange hall in the nearby town of Lee, a group called Evergreen put on a super show of country music – all varieties, but particularly rousing blue-grass. Four people, all very musically talented (each plays at least 2 instruments and all sing) hale from small towns a few hours west of here and have been playing together for 20 years. Two from the group write some of their pieces. The harmonica and banjo players were exceptional! Just a terrific show, with lots of encouragement from a lively audience!! This venue has concerts every 2 weeks in the summer, but this is the first one we've been to -- it won't be the last! Actually, this reminded me of the small-town Texas music halls – similar music and ambience, but no dancing.

Most of our friends on the lake arrived around the end of June. Nine of us went down by boat to The Pines at the bottom of our lake (10 miles) to be treated to dinner in celebration of the 68th birthday of our Houston friend. The group included a couple and their adult son who come over from Switzerland as well as a couple from PA. The Pines is an old sporting camp with cabins, but has a main dining hall with terrific meals as well – really nice to gather with friends at the best restaurant around where no one has to cook or clean up….with a spectacular sunset over the lake on the boat ride back. By the way, did you feel the ground shake and move on June 25th? Bill turned 65, and his Medicare card already saved him money -- half-price fare on the NYC subways!

Throughout my time here, I have continued my advocacy work in mental health. I get all the meeting notices and have sent my input via e-mails. Things are heating up in anticipation of the upcoming January 2011 legislative session. In other words, I've been busy. After Lieutenant Governor Dewhurst and Speaker of the House Strauss rejected a proposal a couple of months ago to cut 200 beds from the state hospitals (psychiatric) because of the negative impact this would have on the criminal justice and community mental health systems, the Department of State Health Services (DSHS) now proposes to cut $134MM out of the mental health system entirely (state hospitals, community mental health centers and psychiatric crisis services); this represents more than 50% of the proposed overall $245MM cuts from that agency. Balancing the budget through these most vulnerable citizens is ill-conceived and unconscionable given that the state is already not meeting their needs, and this proposal will cost the state far more in the long run. My colleagues and I in NAMI Austin and other related organizations are expressing our outrage to DSHS and will be raising this issue with our state legislators as well.

On that note, may this find you well, enjoying your summer and having great adventures, wherever that may be.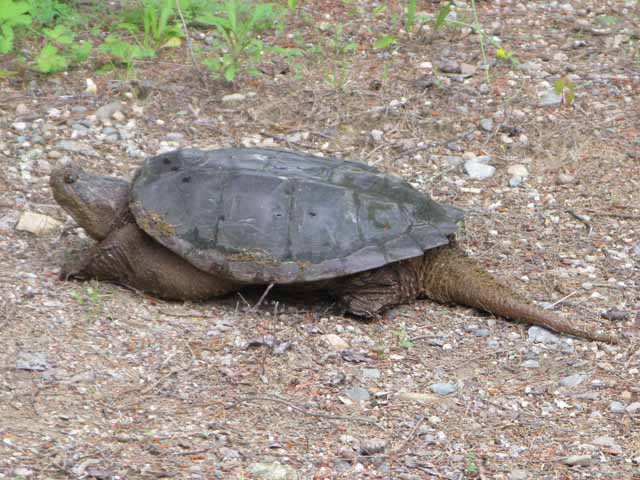 Fondly,

Marilyn