North Woods Journal 6.9.2017
Wildlife and Wildflowers….and "The Damn Dam"
Our first wildlife sighting was on our way into our place, a medium-sized doe (what would be considered a large one in central Texas) standing in the middle of the double-wide, unpaved Depot Road, her tawny coat blending with the dirt of the road, and as it was getting toward dusk, it was hard to see her initially. She stood there a few seconds looking at the car and then bounded off into the woods, her white tail flapping behind her. A couple hundred feet on, a porcupine shuffled along the left side of the road. We got by it quickly before it could get under our tires. At first, I thought of it shooting its darts into the tires, but realized that that's an old wives' tail; porcupines don't shoot out their quills, rather they are released when they come in contact with something or someone. Dogs, being curious, are often the recipients of a painful lesson.
A few mornings later, when I looked out the kitchen window, I thought it was a large brown rabbit munching on grassy vegetation in front of the garage. Further viewing alerted me to a woodchuck, which are particularly destructive to gardens – they'll eat the green bean shoots, and some other tender morsels, just as soon as they poke above ground! I got the old Crossman B-B rifle, a remnant from our boys' childhood, and headed out the front door (the lake side is considered the front) so as not to scare it off by going out the back (the driveway side). I had no car for cover, however, since Bill had left me car-less for 4 days when he went to NYC and New Haven, CT, to help move his sister into a different nursing home. A combination of not being able to get as close as I would like and trouble loading the three B-Bs that I grabbed resulted in a couple of failed attempts. I finally got the third B-B to go, and I'm pretty sure I missed it, but I must have come close enough that I startled the animal, and it went running off into the woods behind my little garden. I saw it go into a burrow down under a huge spruce, amongst its root system. I put a big rock over the hole and went into the house to read up on this critter. It seems that not only are they destructive, but clever as well. Their burrows are a whole maze underground with multiple exits/entrances, and sure enough, on closer investigation, this one had three other holes! After putting the handle end of a hoe into the holes, I put rocks over those too. I have not seen the woodchuck since, and hope not to! Realistically, however, if they favor "yards," there are not many to choose from in this remote location, and I've gotten my garden in and sprouts are beginning to appear.
Late one night, when I was still up around 1:00AM, there was a great ruckus from owls, not the usual Barred Owl sound but some other variety, perhaps a regular "hoot" owl, which may be a Great Horned Owl; these are the 2 most common owls in Maine although there are 11 species here, either resident or visiting. I assume the disturbance was related to their hunting, as they are nocturnal. A couple of hours later, when I had gone to bed, I heard them again, and curiously, when I was working outdoors the next day, during daytime hours, there was more ruckus from them. When we arrived in our yard the week before, I noticed a clump of fluffy, very soft, white fur and could imagine the struggle of a white rabbit versus this nocturnal predator, or perhaps from a hawk, of which we have several kinds. It is not uncommon to be riding along a road here, in a car or on a motorbike, and have a hawk fly out of a tree, winging on ahead down the clearing, or to startle a grouse just emerging from the woods.
Of course, there were moose tracks in my garden, and as I collected leaves that had blown under the deck and into planted areas around the house, a baby ring-necked snake got scooped up too; it's now in my compost bin, along with the leaves. We do not have poisonous snakes in Maine, but around here there are garter snakes (the most common snake in Maine) and these ring-necked ones, thin like a pencil and black with a yellow ring around the neck. I have found them living in the rock perimeters of my gardens, and every year I find sloughed garter snake skins, usually around the gardens too. I don't mind them being there, but I like to know where they are; I'm not happy being surprised by them!
Our friends (neighbors) reported a mother mallard with 19 chicks, probably not all hers. They usually have a brood of about a dozen, but they often adopt orphans, sometimes even from another species of duck. A few loons have been spotted out and about, but it's too early for their chicks.
Have you ever heard a mosquito symphony? It starts out with a solo, then as others join in, it reaches a feverish pitch of undulating notes. I enjoy it under my "bug gear," a net shirt with attached head cover to be worn over long sleeves and a cap, and gaiters that close the gap between socks and pants are also advisable at this time of the year. Gloves are a must too. Mosquitos are abundant right now, along with a heavy complement of black flies. We see little evidence of our friendly bats, prolific eaters of mosquitos; I'm afraid they have succumbed to the white-nose syndrome ravaging the bat population in the northeast. And our friends the dragonflies are not out in force yet, just one or two here or there so far. But it is so neat in the bug gear and closely woven khakis to see dozens of mosquitos on me, and know that they will just get frustrated, so I go about my work, enjoying their symphony!
We are experiencing a late spring up here. As we drove north from the Bangor airport, some trees, perhaps a type of maple, had not fully unfurled its leaves yet. However, lilacs were in bloom, and there were more apple trees than I ever knew existed in the area, some originally by homesteads now long abandoned; their flowers ranged from white to various shades of pink, light to dark. Perhaps some were cherry trees rather than apple.
Even without Lady Bird Johnson's influence, there are spectacular perennial wildflowers in our woods. I have pictures attached of Bunchberry, Clintonia, Blueberry flowers, and Painted Trillium. Unfortunately the Trillium is not quite in focus, and when I went back out days later to try to capture a better specimen, it had gone by, but it is so beautiful that I wanted to give you a sense of it anyway; you can find a gorgeous one on the web.
Blueberry Flowers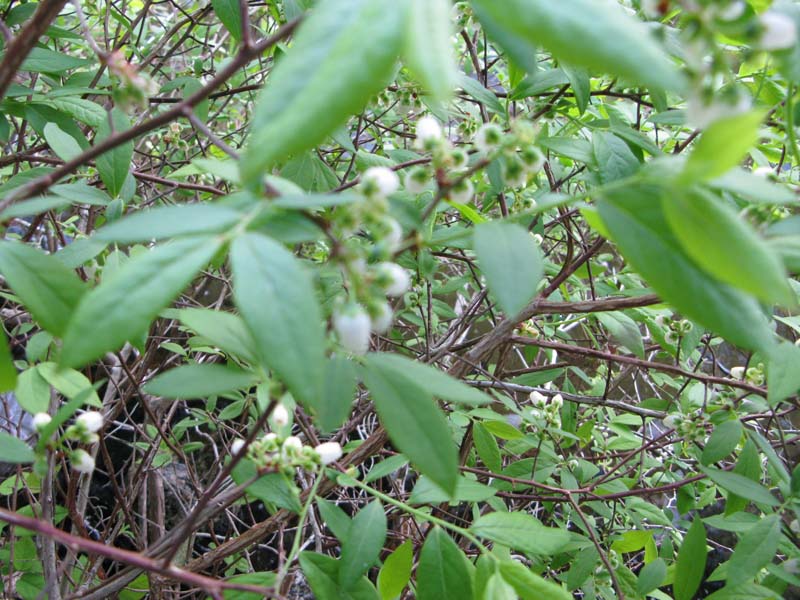 Bunchberry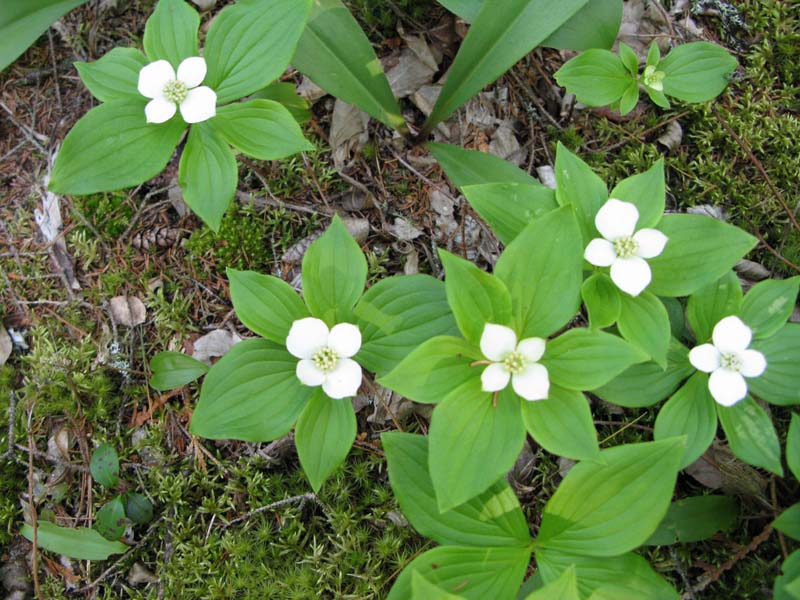 Clintonia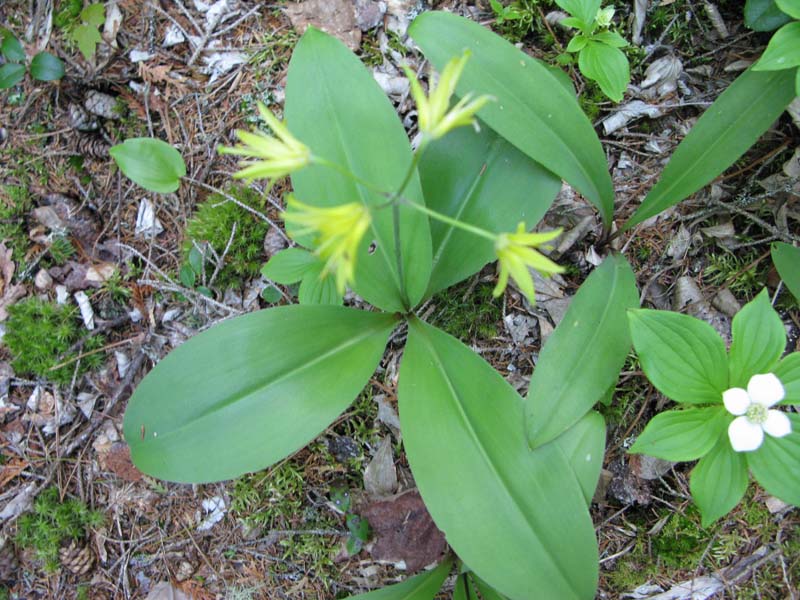 Trillium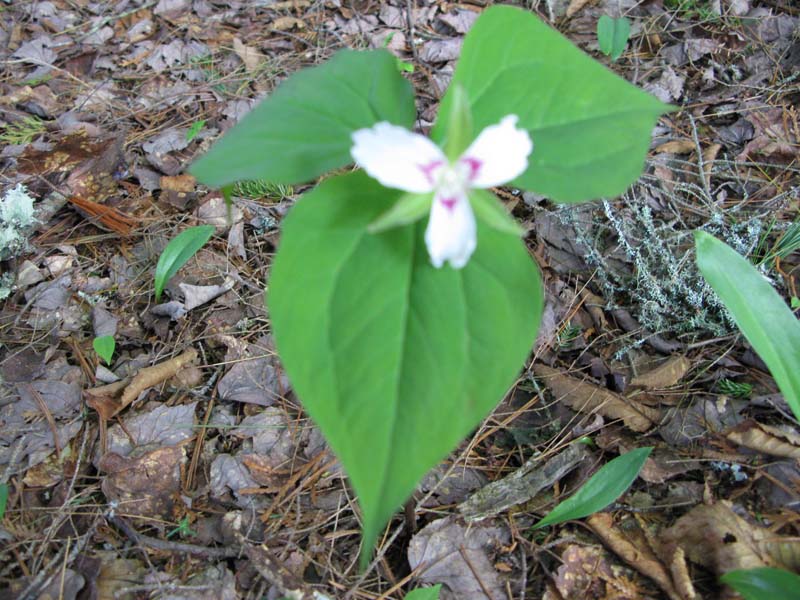 Bunchberries grow in groupings, making a carpet on the forest floor. Eventually their flowers become red berries, which are eaten by humans, deer and moose. Native Americans have made preparations from the berries to treat inflammation, fever and body pain, as well as other ailments. Clintonia, named in honor of former New York Senator and Governor DeWitt Clinton, has pale yellow flowers that turn into bright blue berries. The young leaves are edible, and American Indians used fresh leaves to treat external infections, burns and sores. Tea made from the leaves was used to treat heart disease and other afflictions. Blueberries need little explanation, except that these are wild, high-bush blueberries, brimming with anti-oxidants and fuller in taste than the cultivated ones from the grocery store. They are my favorite, and I enjoy communing with nature when I go out to pick, either walking along the bank or wading through the water. I fear that despite the numerous flowers on the bushes this year, the crop will be small because I have seen hardly any bees, which must pollinate if there are to be blueberries. Painted Trillium, with its three white petals each with a pinkish center, is a glorious flower but short-lasting; the June flowers become red berries in July. Apparently a root preparation was used by certain Native Americans to aid in childbirth, and a number of other medicinal uses have been recorded. I have read that lightly steamed leaves are considered a delicacy.
I must comment on ferns, Fiddlehead Ferns in particular, a rare treat. Our friends (neighbors) go fiddleheading every spring near a stream on their friends' property in Abbot, Maine. Fiddleheads have a brown, papery skin that has to be removed before the curled green underneath can be eaten; our friends use the clean, flowing stream where they pick to agitate the skins off. They picked a 5-gallon pail and shared about 3 pounds of their largess with us! We have had one meal and frozen more portions to savor over the summer. There are no fiddlehead ferns in our area, primarily just Sensitive Ferns, Interrupted Ferns, and Cinnamon Ferns. Ferns are designed to maximize light absorption for photosynthesis through the large surface area of their fronds, an advantage in a shady forest. They reproduce by numerous spores on the underside of the fronds, and some also send up new shoots via underground stems called rhizomes.
The lake level is very high right now, which brings me to the subject of what a friend has termed "the damn dam." Near the bottom of this lake is a dam constructed originally in 1861. In the days of log drives, logs were floated downlake and sluiced through the dam on their way to mills several lakes (and miles) downstream; bundles of hemlock bark, used for leather tanning, were also sent to the dam area and transferred across an isthmus of land to barges in a lock-regulated canal. One can still see the remnants of this historical activity. In any case, the dam is now owned by Woodland Pulp LLC and licensed through the Federal Energy Regulatory Commission (FERC). Because the dam doesn't generate sufficient energy and FERC regulations have made it costly, Woodland has applied to give up its licensure and/or turn the dam over to another party. To this end, their proposal to FERC includes removing 2 gates from the dam, which would lower the lake level permanently 4-6 feet from its current level. That would greatly impact fish and wildlife, recreational activities, scenic considerations, to say nothing of property values, and more. The Lakeville Camp Owners Association (LCOA), of which we are long-standing members, has organized to send correspondence to FERC, and most recently, a bill is being considered in the Maine legislature involving another Woodland dam undergoing the same situation; we are attempting to piggyback on that bill. I have been the correspondence liaison for both of these efforts, working with others to promote an amended bill to legislators and coordinating hearing attendance and testimony. I have gone from advocating mental health in the Texas Legislature to advocating a "damn dam" in the Maine Legislature! The latter is still playing out; next week the Inland Fisheries and Wildlife Committee meets again for a work session on this. In the meantime, Woodland indicates it is negotiating with another party, we think one or both of the Indian tribes that have land on this lake; those are the Passamaquoddy and the Penobscot, 2 branches of the Algonquin.
There's lots of history up here, and lots of history in the making. Hope you are enjoying your summer, wherever!
Best,
Marilyn